Choosing the right mobile tracked crusher for you is both a critical business decision as well as a fundamental financial one! By that we mean, there are varying factors that will determine your output and productivity. The difference between productivity and economical growth or financial stress and customer dissatisfaction.
It's no secret, crushing material into more manageable sizes is vital for so many industries. In quarries, crushers are needed to break down the original material to be processed further. The concrete and aggregates business must break down material in order to further process into a sellable material.
When choosing the right mobile tracked crusher for you, it's necessary to consider your output requirements, feed material, application and surroundings.
One size doesn't fit all
The McCloskey range of mobile crushers are perfectly tailored for different environments and materials, helping you to maximise productivity and satisfy demand. Designed and engineered to cater to all requirements, the McCloskey range of mobile jaw crushers, impact crushers and cone crushers offer machines that vary in size to suit your site environment – McCloskey now offer a compact range of mobile crushers that are ideally suited to smaller worksites. McCloskey crushers offer varying production rates depending on requirements and more recently, a crusher and screener combined!
McCloskey crushers are proven performers and have been field tested worldwide for more than 30 years, making McCloskey the easy choice. Choosing the crusher best suited for you and your business is the hardest part.
Mobile Jaw Crushers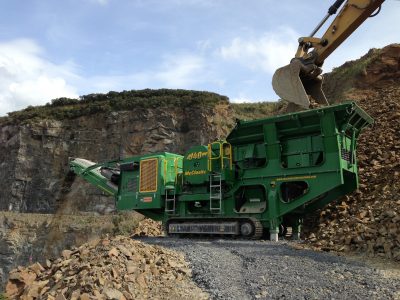 Mobile Jaw Crushers are often considered the most efficient and least costly to operate. Mobile Jaw Crushers are often a popular choice for tougher materials such as granite and concrete.
Jaw crushers have fewer moving parts which may mean less wear over time. The moving jaw and stationary plate forms a V shape which crushes the material between the two by compressive force.
Jaw crushers are often first choice if the goal is to simply reduce the size of raw material to make it more manageable.
Mobile Impact Crushers
Better suited to contaminated material, an Impact Crusher is made up of more moving parts and as the name suggests, the continual impact on the material breaks it down until it's reached the desired size.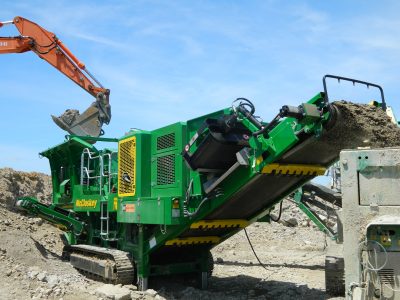 An Impact Crusher is made up of a rotor attached to a horizontal rotating shaft. The shaft is situated inside a chamber which is lined with replaceable liner plates, anvils and blow bars.
Mobile Impact Crushes are ideally suited to soft to medium rock but can tackle harder material too.
Mobile Cone Crushers
Cone Crushers are tough and great with hard materials such as rock and ores. Mobile Cone Crushers work most effectively as a secondary crushing process. Similar to the Jaw Crusher, the Mobile Cone Crusher is best suited to pre-sorted and pre-sized material processed via a primary crushing process. Also like the Jaw Crusher, Cone Crushers often offer a relatively lower cost crushing solution.
Cone Crushers squeeze material through convex and concave shaped surfaces.
Mobile Crushers – The decision made easy
McCloskey are the largest independent crusher and screener manufacturer in the world. The McCloskey team are experts in the field and have many years experience.
For more information or advice on the range of McCloskey mobile crushers or to arrange a site visit, please call us on 01235 832 407.
To email us direct, please head over to our contact page here.