Satisfy Demands with a Mobile Crusher and Screener
Nowadays, flexibility and efficiency is key. We don't have time to waste, we have demands to satisfy and expectations to meet. Mobile crushers and screeners offer versatility and manoeuvrability whilst remaining reliable and productive.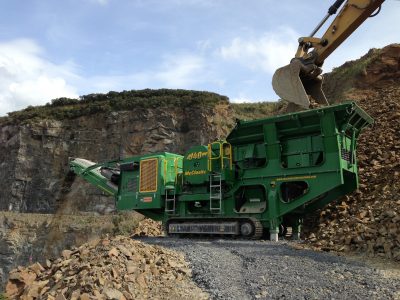 Is a Mobile Crusher or Screener for you ?
In some cases, a mobile machine may not be necessary. For example, often the lifespan of a quarry will be a number of years and there will be less requirement to move machinery. For contractors and smaller, more manageable sites, a mobile crusher or screener will be ideal.
The Benefits of a Mobile Crusher or Screener
Mobile tracked machines move under their own power which is by the far the quickest and most stress free way to move them around your work site.
Due to their size and manoeuvrability they are easily transportable by truck and trailer which give you ultimate flexibility.
Mobile crushers and screeners allow the operator to position and re-position the machine to where they are working. This reduces the need for excess machines hauling material from one place to another.
The Range of McCloskey Mobile Crushers and Screeners
Although more compact, McCloskey mobile crushers and screeners suffer zero compromise on their power and productivity. With a number of class leading machines, McCloskey are leaders in the crushing and screening industry. All McCloskey machines are field tested worldwide and offer class leading productivity and fuel efficiency.
To view the range of mobile crushers, including jaw crushers, impact crushers and cone crushers, click here.
To view the range of mobile screeners, click here.
For advice, for a quote or to discuss your requirements, please call us on 01235 832 407
Alternatively, you can email us or connect with us on Facebook and Twitter.